Our stores
MAURO GUERRESCO 1
Towards the end of the pedestrian walkway, along the famous promenade of the Cortina social-set, Mauro Guerresco 1 marks the starting point of Mauro Guerresco's various activities. This sales point is personalized expressly for its young clientele which have been paramount in launching many a new brand from their onset and which have now become famous world-wide. Amazingly original shoes, jackets, sweats, shirts, T-shirts and accessories are all available for sale within a hallmark which distinguishes the energy and dynamics of their style. This is where the real trend-setters shop.
Corso Italia, 138 - 32043 Cortina d'Ampezzo - 0436 866990 Locate on Map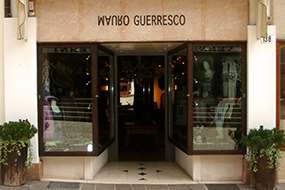 MAURO GUERRESCO 2
In 2008, they purchased a second sales point which is also located on the famous promenade. In this store it was possible to create the newest projects of their Concept Store Mauro Guerresco 2, by introducing furniture and objects of interior design in addition to the original clothing, footwear and accessories which they offer. This initiative allows them to enjoy a store which is in constant evolution - a movie set of sorts - with a rapid turnover of distinctive furnishings such as: vintage industrial furniture in wrought iron (tables, libraries, credenzas) club chairs in leather from the 1930's and 40's, Fresnels from the stage and screen converted into lamps for interiors, vintage air conditioners and many more distinctive collectables...
Corso Italia 4 - Cortina D'Ampezzo - 0436 862429 Locate on Map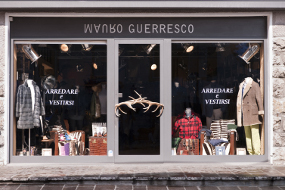 MAURO GUERRESCO 3
This is the historical Guerresco store opened by Vittorio Guerresco in 1945. It is highly specialized in offering the finest of traditional footwear and leather goods that have dressed entire generations and habituès of Cortina, thereby gaining great notoriety in all of Italy. Mauro Guerresco has successfully made the generational change and is continuing brilliantly in his father's footsteps by characterizing the store with his own personal flair and taste which includes fine and distinctive furnishings. This historical sales-point has also been transformed into yet another unique Concept Store modelled on the first one of the series, marking a strong continuation in fine footwear...
Via Roma 35 - Cortina D'Ampezzo Locate on Map